Cabbage Stewed with Mushrooms and Prunes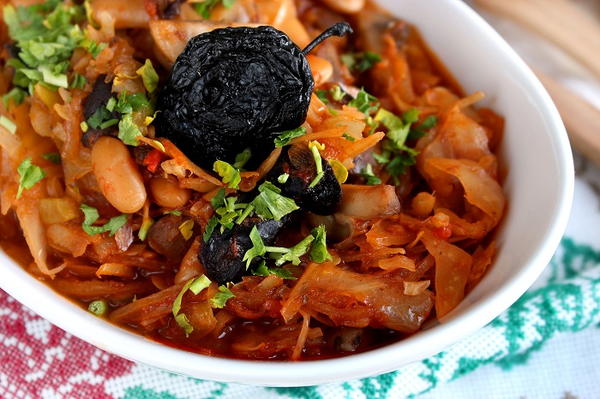 Cabbage Stewed with Mushrooms and Prunes
"Today I want to tell you the recipe of a delicious stewed cabbage with mushrooms and prunes. This recipe will certainly intrigue you with its ingredients and an amazing taste. A delicate flavor and aroma of prunes will not leave you indifferent to this dish. Prunes go well with other products and becomes a zest of the ready dish in combination with mushrooms, forming a new incredible taste. Ingredients: cabbage - 0,5-1 kg; beans in tomato sauce - 1 b.; prunes - 1 handful; fresh mushrooms - 300 g; onions - 1-2 PCs.; garlic - 2-3 cloves; vegetable curry - to taste; salt - to taste; sugar - 1 tbsp; vinegar - 1 tbsp."
Ingredients
1 cabbage
1 beans in tomato sauce
1 prunes
300 grams fresh mushrooms
2 onions
3 garlic
1 vegetable curry - to taste
1 sugar
1 vinegar
1 salt - to taste
Cut the mushrooms coarsely, fry the slices in a pan, adding 1-2 tbsp of oil and a couple pinches of salt.

When all the moisture from mushrooms evaporate – add arbitrarily chopped onion and fry mushroom mass and onions until golden brown.

Pour a thick tomato sauce into the pan with mushrooms and beans, bring to a boil. For not to pour the sauce into another container later, it is better to take a deep saucepan initially or start to fry the mushrooms and onions in a casserole or in a heavy saucepan.

Cut the washed prunes into medium-sized pieces-cubes, add them to tomato sauce, stew for 5 minutes without removing the lid. Try the tomato sauce for salt, season with salt if necessary, add sugar and vinegar.

Chop the cabbage for the dish, optionally crush it lightly with your hands – this way it will be a little softer. If your tomato sauce is not liquid enough – add some more clean warm water, cover the pan or the casserole with a lid, simmer the dish for 40 minutes on a smooth and slow fire. Periodically open, check the level of the boiling liquid and mix the cabbage, for it to stew evenly in all areas and at the same time fills with wonderful aromas of mushrooms and prunes.

When the cabbage and mushrooms are almost ready – add the garlic slices and your favorite flavored seasoning. Simmer for another 2-3 minutes.
Your Recently Viewed Recipes