10 Copycat Salsa Recipes
No matter what level of spice you crave, these restaurant-style salsa recipes are sure to hit the spot!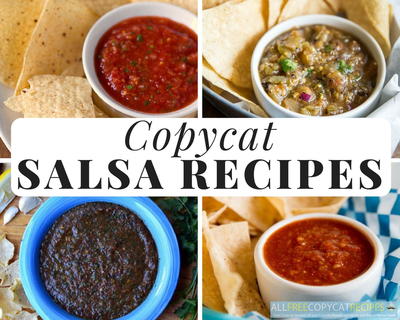 Whether you need a quick and easy salsa to serve to guests as a homemade appetizer or you want a salsa that's full of complex flavors and spices, there's a salsa recipe for you in one of these 10 Copycat Salsa Recipes! Choose carefully. The appetizer you serve can set the mood for the whole meal. And you really can't go wrong with some classic restaurant style salsa.
 
Salsa is the must-have recipe for game day. Sure, you can always do store-bought salsa, but it's always a little bit tastier when you make it yourself. Plus, you can personalize the recipe. Take one of these amazing copycat salsa recipes and run with it. Add more cilantro or take the cayenne down a notch. Before you know it, you'll be a salsa making expert!

Watch and Learn: How to Make Restaurant Style Salsa at Home
What's your favorite kind of salsa? Tell us below!
Your Recently Viewed Recipes