Best Ever Cannellini and Butter Bean Soup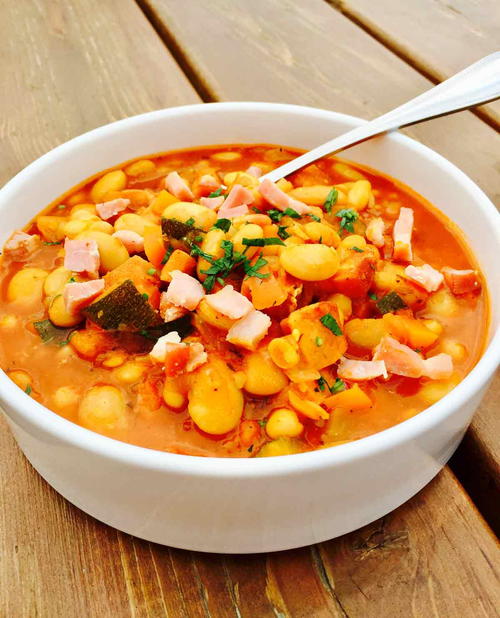 Best Ever Cannellini and Butter Bean Soup
"Oh yes, I'm right! This is, indeed, the very best beans soup ever with no exaggeration in the slightest. I know I might be a little biased here because I am a truly, madly and very deeply in love with any beans and pulses in general and I just ?? soups, so I am not exaggerating at all by saying that, for me, this is the best soup ever. If you do, you are definitely on the right page and you should prepare this soup as soon as possible… You will be super pleased. ?? ??"
NotesThis recipe may sound pretentious but it is not at all.

~ The beans can be soaked overnight, but not necessarily.

~ You may use canned beans, if you do not fancy using the dry ones: it will not taste quite the same, but it will take a lot less time to cook/prepare it.
Serves8
Ingredients
500 ml stock (chicken or vegetable base)
500 ml water
300 g cannellini beans (dry)
200 g butter beans (dry)
300 g bacon (sliced) (or gammon, sliced)
2 medium onions
1/2 leek
2 large carrots
3 stalks celery
3 cloves garlic
Instruction
Start by soaking the beans over night if you wish. This is not necessary, but it is recommended to diminish the cooking time. I, however don't do this since I cook my beans in a pressure cooker that I cannot do without. It reduces the cooking time to half.

Cook the beans according to the package instructions. If you choose to use canned beans, then follow step 3.

Peel, wash and chop the onions and the carrot, wash and chop the leek and the celery.

In a deep pot, start by adding one tbsp of olive oil, then add the chopped garlic and the diced gammon. if you use bacon or any fatty trimmings, start by frying this first and drain off the excess fat.

Add the chopped onion and cook (covered with a lid) for 2 minutes, stirring it a couple of times. Add the diced carrots, celery, 1 pinch of the Italian dry herbs salt and some pepper. Cook for 3 minutes.

Add the cooked/canned beans and 1 l water (or half water, half stock). Cook for 20-25 min, covered.

Add the chopped tomatoes and the tomato paste, the remainder of the salt, the bay leaves and cook for a further 30 minutes (15 min if using canned beans) on low/medium heat.

Add all chopped herbs and set aside.

Enjoy every mouthful... it is absolutely …. irresistible ??
Your Recently Viewed Recipes