18 Copycat Candy Recipes
Candy recipes for Halloween or any time you want some homemade care in your sweets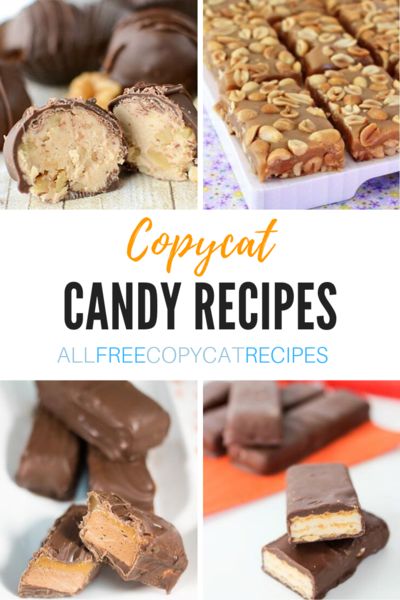 It doesn't have to be Halloween for your sweet tooth to go wild. Whether you're tired of the same old candy, hoping to 'wow' someone special in your life, or just looking for a way to express your creativity in food form, we understand. That's why we've compiled these 18 Copycat Candy Recipes.

Of course, you could always give this homemade candy away. You'd certainly be the most popular person in the neighborhood if you did. Still, no one could blame you for hoarding these sweet treats for yourself. 

There's just something so special about homemade, after all. You know exactly what is going into these delicious candies, and some of the primary ingredients are your own effort and imagination. You (and whoever you decide to share these with) will definitely be delighted with the results.

Go ahead, make someone smile. And happy snacking!

Sign Up for More Free Copycat Recipes
Table of Contents
Candy Bar Recipes
These are the classics you know and love. Chocolate fanatics rejoice! You'll never have to deal with candy companies raising prices on smaller and smaller candy bars again.
Chocolate Candy Recipes
We've got even more chocolate for you here, but you won't be limited to candy bars anymore. From classic copycats, to seasonal twists, to unique treats, we've got you covered.
Other Candy Recipes
If chocolate isn't right up your alley right now, don't worry because we've got more. There's a little bit of something for every appetite and every occasion.
Your Recently Viewed Recipes