35 Copycat Chinese Restaurant Recipes
These recipes for Chinese food are just what you've been craving, from chicken fried rice to orange chicken!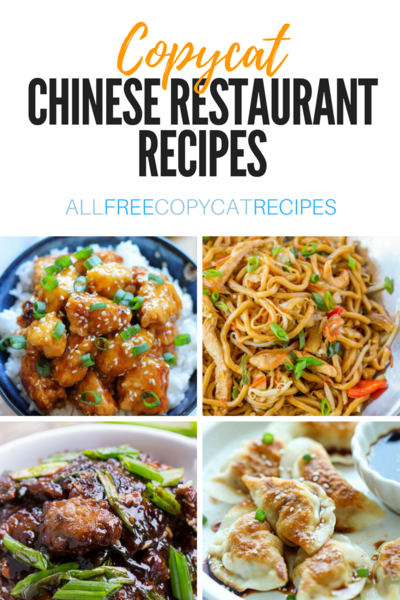 These 35 Copycat Chinese Restaurant Recipes are some of the most classic carry out dishes. Leave that take-out behind, now you can make these copycat Chinese restaurant meals in your kitchen and on your own time. This list contains a wide variety of entrees, sauces, and sides. There are even healthy vegetarian options. With so many choices, it's easy to mix and match these delicious and easy Chinese dinner recipes.

If you are looking to serve dinner to a large crowd, these copycat chinese restaurant recipes are sure to please the whole party You can put together a make-at-home Chinese buffet.  During any season, any time of year, you can enjoy these family-friendly recipes.

Why run to the restaurant when you can cook up this copycat collection at home? Whether you're looking for beef, sauces, shrimp, or more, you'll find it in the list below. Impress your friends and family with your flair for Chinese restaurant-worthy cooking. You can even end your meal with a nice cup of rice wine and fortune cookies. Learning how to make Chinese food is a breeze with these recipes.

Join Our 100,000+ Fans And Sign Up to Receive Your FREE eNewsletter!

Check out the BONUS VIDEO below to see how you can make a really delicious chinese noodle bowl recipe!
Table of Contents
Copycat Chinese Restaurant Entrees
What makes a copycat Chinese restaurant recipe stand out from the pack? It's the special blend of meat, rice, and spices that defines the flavors of classic Chinese cooking. No wok? No problem, these recipes are easily modified for at-home cooking. If you're searching for beef, chicken, noodles, or shrimp, take a look below and select your favorite. Pad Thai is even thrown into the mix. Get ready for a take-out fake-out with this appetizing mix of entrees. You'll be cooking up easy Chinese food in no time.
Copycat Chinese Restaurant Sauces and Dressings
No copycat restaurant dinner is complete without a light and satisfying sauce. These sauces are both light and full of flavor, a winning combination. Whether you like it spicy, like a red hot sriracha, or delightfully sweet and sour, there's something here for everyone!
Copycat Chinese Restaurant Sides
The perfect addition to any meal at a Chinese restaurant is a delicious side dish. Why not step up your culinary game by trying out new tricks in the kitchen?  Let these copycat Chinese restaurant recipes spark your creativity.
What's your favorite Chinese restaurant menu item? Tell us below!
Your Recently Viewed Recipes